Reflections on the CRUK Early Diagnosis Research Conference 2019
CanTest Junior Faculty member Dr Monica Koo reflects on her experiences at the recent CRUK Early Diagnosis Research Conference and its theme of "10 years on: accelerating early diagnosis evidence into practice".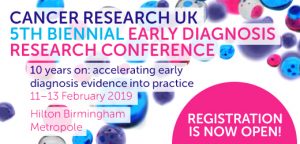 Earlier this month, around 300 delegates gathered in Birmingham for the fifth biennial Early Diagnosis Research Conference organised by Cancer Research UK. The significance of the meeting – marking 10 years of early diagnosis research – and the remaining challenges in research, policy and practice, became clear to all as the conference proceeded.
The conference followed a packed schedule including the latest research in early diagnosis (spanning innovations across screening, symptom awareness and diagnostic pathways), panel debates, and numerous patient plenaries, ensuring that personal stories and perspectives remained at the forefront of our discussions.
We hit the ground running on Monday evening, starting with talks in parallel by myself (in a session chaired by CanTest Associate Director Prof Yoryos Lyratzopoulos) and fellow CanTest researcher Marije van Melle, ahead of the welcome reception, which gave a taster of the jam-packed programme that would follow in the next two days.
The first full day began with an insightful overview of progress in early diagnosis research from Sara Hiom, CRUK's Director of Early Diagnosis. As an early career researcher, it is remarkable to see just how far the field has advanced in the last ten years. As one of the speakers pointed out, it's hard to believe that "early diagnosis wasn't always orthodoxy". Other keynote highlights included Prof Harry de Koning's presentation on lung cancer screening and the talk by Dr Jem Rashbass (Public Health England) on the growing availability of extensively linked high-quality cancer data in the UK – highlighting the opportunities to ask exciting and important research questions in early diagnosis.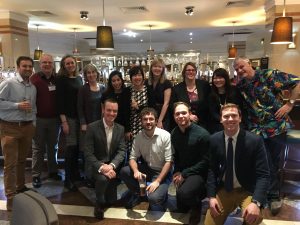 In between all the research, it was lovely to catch up with so many CanTest colleagues ahead of the second CanTest International School, where many of us will be gathering in April. It was also thrilling to hear of the nomination of so many CanTesters (myself included) for one of three 10 year anniversary awards including: Dr Sara Hayes; Prof Willie Hamilton; Prof Yoryos Lyratzopoulos; Prof Richard Neal; and Dr Fiona Walter. Huge congratulations goes to everyone who was nominated, and to Prof Hamilton who was awarded the People's Choice award at the conference dinner. I can report that Fiona and Willie led the way on the dance floor later on in the evening, showing that they are fearless pioneers in every sense!
The last day of the conference was equally packed and featured high-calibre talks from many more CanTest colleagues including a keynote by Prof Willie Hamilton (which you can read about here), and presentations by Dr Sam Merriel, Dr Sarah Bailey, Dr Fiona Walter, and a thought-provoking panel debate chaired by Prof Greg Rubin.
As the conference came to an end, Prof Hamilton noted that early diagnosis was a "great academic community", and the CanTest Collaborative is a clear example that I am glad to be part of.