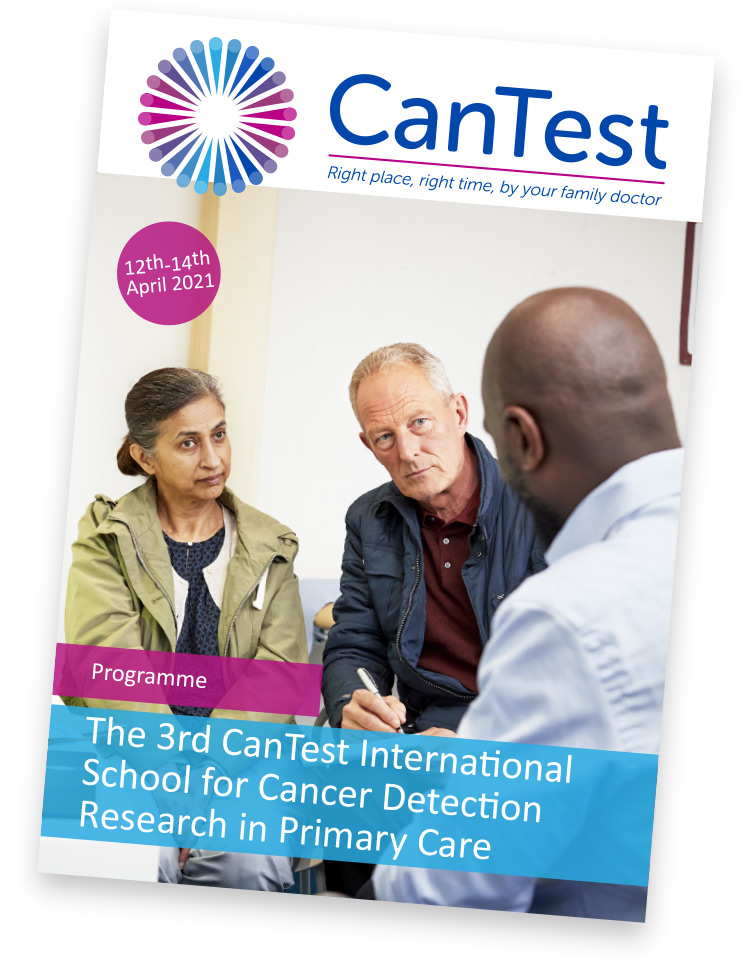 Our first full virtual event, the 2021 third CanTest International School for Cancer Detection Research in Primary Care was an unqualified success.
Held online in collaboration with technology partners Venue AV and spread over three days (from April 12th-14th 2021) it witnessed seasoned senior CanTest academics and upcoming researchers combine over three days of shared learning, online networking and virtual cocktails.
A varied programme of recorded and live talks with interactive large group and small group sessions on everything from emerging biomarkers and inequalities to the impact of COVID-19 on cancer research, it included sessions led by Professors Jon Emery (Melbourne, Australia), Hardeep Singh (Baylor School of Medicine, US), Matthew Thompson (Washington, Seattle, US), Niek de Wit (University Medical Centre, The Netherlands) alongside Fiona Walter (Cambridge, London), Willie Hamilton (Exeter), Greg Rubin (Newcastle), Yoryos Lyratzopoulos (UCL) and Richard Neal (Leeds).
There were also invited external speakers including Professor Emma Crosbie (Manchester), Dr Phil Crosbie (Manchester), Professor Steve Pereira (UCL), Professor David Hunter (Oxford) and GRAIL Europe's Director of Cancer Intelligence, Sarah Hiom.
All the sessions were recorded and can be accessed by accredited CanTest researchers below using the password they have been supplied. Please contact Valerie Sills in Cambridge (vas46@medschl.cam.ac.uk) if you have any access difficulties.
Three expert-led sessions were held each day of the 2021 CanTest International School – all talks, including introductions and subsequent group discussions are captured in full.
All faculty members at School 2021 recorded bite-sized presentations on their current work, providing a telling insight into the breadth and scope of CanTest's current research.