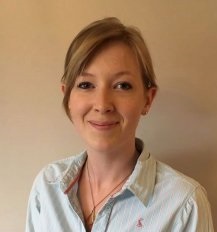 In her current position as a Senior Research Fellow at the University of Exeter Medical School, Sarah is involved in several studies investigating the use of primary care blood tests in detecting cancer, the impact of multi-morbidity on cancer diagnosis,  and evaluating the effectiveness of faecal immunochemical tests (FITs) for colorectal cancer in the low risk symptomatic population in the South West of England.
Sarah joined the CanTest team in September 2017. She has a multidisciplinary background, having studied Biomedical Science and Public Health at Cardiff University. Her first experience of research was undertaking her master's dissertation project, which involved using longitudinal observational data from the Caerphilly Prospective Study to examine the relationship between oily fish consumption and cognitive decline. This sparked her interest in the potential of observational data and quantitative methods, and led her to pursue a career in health research.
Before moving to the cancer diagnostics field in 2014, Sarah worked in Child Health research at the University of Exeter, and Dental Education at Cardiff University. Upon moving to the Discovery Group led by Prof. Willie Hamilton in 2014, she began her PhD on the association between thrombocytosis (raised platelet count) and cancer diagnosis, which was completed in Autumn 2016. Specifically, her PhD found that thrombocytosis is an important risk marker of undiagnosed cancer in primary care, particularly in men aged over 40 years. This work has had a significant impact on clinical practice since its publication in 2017, and was the top-rated paper of the British Journal of General Practice in that year. This is one of her personal highlights from her career to date, alongside being interviewed for Radio 4's Inside Health programme, learning to drive a tractor, and swimming an entire length of the university's swimming pool underwater.
Follow Sarah on Twitter @sSarahBailey
Telephone
+44 (0)1392 726445
Institution
University of Exeter, UK
Areas of Expertise
Cancer diagnosis