The role of imaging in the diagnosis of symptomatic lung cancer in primary care (PhD)
Introduction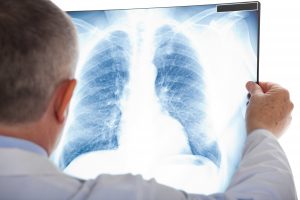 Lung cancer is a leading cause of death world wide.  In the UK survival for patients diagnosed with lung cancer has been worse than for patients in many countries in Europe and North America. An important reason for this is that patients in the UK tend to be diagnosed when their lung cancer is more advanced, rather than at earlier stages of the cancer.
Chest x-ray is a test that is widely used by GPs to diagnose lung cancer. In some patients who have lung cancer, this will not be identified on their chest x-ray ('false negative' result).  We do not know in exactly how many patients chest x-ray does not identify possible cancer or if missing lung cancer on a chest x-ray causes harm, in terms of causing delay to diagnosis and cancer being more advanced.
In this project we aim to:
Establish how accurate chest x-ray is in diagnosing lung cancer
Work out if patients who do have lung cancer but who have had a false negative chest x-ray experience delay in diagnosis and poorer survival
Discover how GPs make decisions about patients who have an x-ray result which is not concerning for lung cancer
Compare the tests that GPs can request across different countries and how this affects diagnosis of lung cancer.
To do this we will:
Combine the results of many studies on accuracy of chest x-ray ('a systematic review')
Use patient data to examine how long diagnosis takes and how advanced the lung cancer is, in patients who had a chest x-ray that identified lung cancer compared to those that didn't.
Ask GPs what they do when a patient has a normal chest x-ray but still has symptoms
Compare data on tests and lung cancer from different countries.
Project Team
Related projects
Risk of lung cancer in symptomatic patients with negative chest x-ray results
Is General Practice chest x-ray rate associated with lung cancer outcomes?