What factors influence GPs' decision to request imaging for possible lung cancer?
Introduction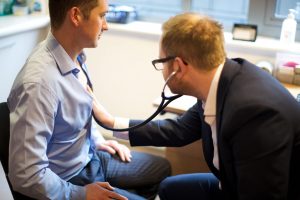 Lung cancer survival in the UK is poor by comparison with other advanced economies. This is likely to be partly due to detection of lung cancer at later stages of disease. In the UK chest x-ray remains the predominant first line investigation for lung cancer, whilst other systems make more extensive use of computed tomography (CT).
This project will explore what factors lead GPs to consider the possibility of lung cancer, how they make a decision as to whether to investigate the possibility of lung cancer and what tests they use and what factors that might dissuade them from arranging such investigations. We will also explore GPs' opinions on being able to organise tests like CT. To do this we will interview approximately 15 GPs. The interviews will be transcribed and the transcripts will be analysed and themes will be identified and described.
Project Team
Aims & Objectives
To understand the symptom related and patient related factors which influence GPs' consideration of investigation for lung cancer
To understand when GPs consider imaging or repeat imaging with chest x-ray or direct access CT
To explore GPs' attitudes to direct access CT investigation.
Methodology
Qualitative study, using semi-structured interviews with approximately 15 GPs. Participants will be recruited to include a sample which includes GPs who work in a range of socio-economic settings (low, medium & high levels of deprivation). Interviews will be conducted by the chief investigator (SB) and recorded on an encrypted recording device. Audio recordings will be transcribed verbatim. Participants will be given a numeric identifier and all information which could be used to identify individuals will be removed. A thematic approach will be taken to analysis, using Braun & Clarke's six stage approach.
Outputs & impact
We hope that the research will allow us to understand what factors trigger GP actions to investigate for lung cancer, this may in turn help generate understanding of what type of patients may be overlooked, who perhaps could benefit from investigation. We also hope that this work will identify what factors dissuade GPs from investigating lung cancer ('barriers') as if these are understood then they may be addressed. In addition we hope that understanding if CT is an acceptable test for GPs or what would be required to make this test more acceptable, will help support the development of direct access CT, which has much greater accuracy for diagnosing lung cancer.
Next steps
Initial feedback has been received from the Leeds School of Medicine Ethics Committee and the team are preparing revisions to the project plan based on this.