Tests and tools for the detection of ovarian cancer in primary care
Who is involved?
Project Summary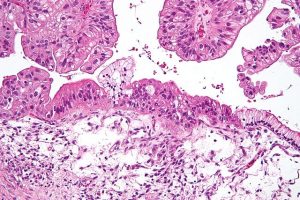 Ovarian cancer is the 5th most common cause of cancer related death in UK women, accounting for more than 4000 deaths each year. Most ovarian cancer symptoms are vague, making early diagnosis challenging. The majority of women are diagnosed late, so it is more difficult to cure, and only 46 out of every 100 UK women survive for 5 years after diagnosis. Earlier diagnosis is therefore likely to improve survival.
Blood and imaging tests are currently used to investigate patients with symptoms that might be caused by ovarian cancer, and to help GPs triage patients, i.e. to determine who to refer urgently and who to reassure. However, little is known about how effective these tests are at picking up ovarian cancer in primary care. It is possible to combine ovarian cancer test results with risk factors, such as a patient's age and symptoms, to give a more accurate indication of a women's risk of ovarian cancer at presentation. No such ovarian cancer risk assessment tool is available for doctors to use in primary care.
In this multi-stage project, we will use routinely collected data to map how patients with ovarian cancer are currently evaluated and investigated in UK primary care, prior to diagnosis. We will evaluate the performance of ovarian cancer tests and develop a new ovarian cancer risk tool to aid the early detection of ovarian cancer in primary care.
Through this work, we aim to improve understanding of how ovarian cancer is currently diagnosed, and develop novel approaches to help detect it earlier.