CanTest: Social Network Analysis
Project Team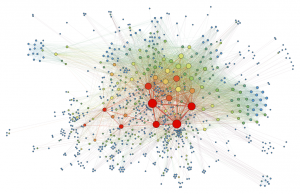 Project Lead: Dr Esther de Groot (University Medical Center, Utrecht)
Senior CanTest Lead: Prof Niek de Wit
Project Summary
We propose a plan to demonstrate to the sponsor (Cancer Research UK) in what manner the CanTest Collaborative succeeds in strengthening and developing the research community for early cancer diagnosis in primary care, and to stimulate its development.
The plan involves mapping the (evolving) relationships that connect those researchers directly associated with the network. For the remaining years of the CanTest Collaborative social network data will be collected. At three different moments, objective quantitative data will be collected on the basis of publications found in PubMed indicating which researchers within the CanTest Collaborative publish(ed) together.
In addition each year quantitative data about perceived research collaboration will be collected with questionnaires sent out to all participants within the CanTest Collaborative. Finally qualitative (subjective) data will be collected twice through interviews conducted online.
Thanks to the longitudinal design, the project will give information on the expansion of the community with scientists who did not belong to the CanTest Collaborative at the start. For the analysis of the collected data, we will use methods described in the literature about community development and value creation.