CanTest Social Network Analysis
Introduction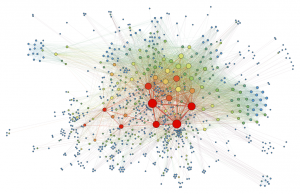 The CanTest Collaborative were the winners of Cancer Research UK's first ever Catalyst Award – which means that a key element of the 5 year programme is capacity building in primary care cancer research. This project aims to analyse and quantify the capacity building impact of CanTest.
This project will use Social Network Analysis methodologies to map and assess the relationships which develop and evolve between researchers in the CanTest family. We aim to measure how well the CanTest Collaborative succeeds in strengthening and developing the research community for early cancer diagnosis in primary care. The project will be used to demonstrate the impact of the capacity building aspects of CanTest to Cancer Research UK.
Aims & objectives
The primary purpose of undertaking this work is to demonstrate to Cancer Research UK whether one of the main aims of the CanTest Collaborative – to strengthen the research community for early cancer diagnosis in primary care, and to stimulate its development – has been met. The second goal is to assess the development of the CanTest community and to analyse the value creation of the network in a scientific way. Value creation is about activities and interactions as having value in themselves, the value that lies in its potential to be realised later, the value put into use, and value reflected in performance improvement.
Methodology
Data relating to the CanTest Network will be collected throughout the time of the CanTest Collaborative award and beyond. At three different points in time, objective quantitative data will be collected on the basis of publications found in PubMed indicating which researchers within the CanTest Collaborative publish(ed) together. In addition each year quantitative data about perceived research collaboration will be collected with questionnaires sent out to all participants within the CanTest Collaborative.
Finally qualitative (subjective) data will be collected twice through interviews conducted online. Thanks to the longitudinal design, the project will give information on the expansion of the community with scientists who did not belong to the CanTest Collaborative at the start. For the analysis of the collected data, we will use methods described in the literature about community development and value creation.
Outputs & impact
The anticipated output of the project will be a scientific evaluation of the CanTest Collaborative and a quantitative assessment of the impact of the Cancer Research UK Catalyst award funding on the field of primary care cancer research.
Next steps
Recommendations for other networks / collaborations of researchers of best practice and how to assess impact.
Publications
Vermond D, de Groot E, Sills VA, Lyratzopoulos G, Walter FM, de Wit NJ, Rubin G. The evolution and co-evolution of a primary care cancer research network: From academic social connection to research collaboration. PLoS ONE 17(7): e0272255 2022. doi: 10.1371/journal.pone.0272255
de Groot E, Vermond D, Sills VA, Mol SSL, Walter FM, Rubin G, DE Wit NJ. Factors determining development of researchers within a research network on cancer diagnosis in primary care (CanTest): An interview study. BMJ Open 2022;12:e046321. doi: 10.1136/bmjopen-2020-046321