Diagnostic performance of biomarkers for bladder cancer suitable for primary care: a systematic review
Project summary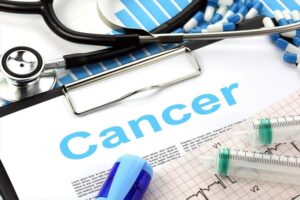 Bladder cancer is the 11th most common cancer in the United Kingdom. If found early, the cancer is more likely to be treatable. Blood in urine is the only easily identifiable symptom, but blood is not always visible which makes cancer detection more difficult.  
Most bladder cancers are diagnosed after a general practitioner (GP) refers for more examinations. There is no available screening programme for patients with a higher risk of developing bladder cancer. Evidence shows that more needs to be done to reduce missed opportunities for diagnosing bladder cancer in patients who first present with symptoms and are later diagnosed with cancer. 
There is a lot of research being done on biomarkers (substances that can be found in urine or blood for example and can be used to tell apart those with and without cancer). Most of this research, however, is being done in specialist care settings where people have already been referred for suspected cancer. We need to identify more evidence that can be translated to the general population who consult in primary care before being diagnosed.  
We aim to review the available evidence to find biomarkers that have been used to diagnose bladder cancer, and also report on those that have the potential to be used in primary care to help with the early detection of these cancers.