Senior and Junior Faculty represent CanTest at SAPC conference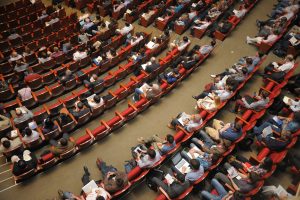 The 47th Annual Scientific Meeting of the Society for Academic Primary Care (SAPC) is being held in London on the 10th-12th July and will see sessions chaired, and presentations given, by CanTest colleagues.
CanTest Director of Faculty Fiona Walter and Associate Director Richard Neal will co-chair the session on cancer, which includes four presentations by Junior Faculty.
Sam Merriel, CanTest Clinical Research Fellow, will present his work aimed at identify prognostic factors for prostate cancer progression in men using primary care data; "Catching the 'tigers': Retrospective cohort study identifying prognostic factors for prostate cancer progression using routine primary care data".
Statistician Gary Abel, CanTest Senior Faculty, will be chairing a session titled; "Routine Data in Primary Care research: Utopian dream or nightmare reality?".  He will also present findings on patient experience and the role of CCG's, as well as work exploring the methodology used to identify the best and worst general practices.
CanTest affiliated PhD students from Cambridge, Yin Zhou and Elka Humphrys, will present their work on the factors that affect the diagnostic timeliness of (i) patients with urological symptoms that may be suggestive of kidney and bladder cancer, and (ii) patients diagnosed with oesophageal and gastric cancer, whilst CanTest affiliated researcher Thomas Round discusses his research on the "Association between use of the urgent suspected cancer referral (two week wait) pathway and cancer survival: a 5 year national cohort study".
Also during this session, Julia Hiscock will present the work of the Wales Interventions and Cancer Knowledge about Early Diagnosis ('WICKED') programme, which is led by Richard Neal.
The annual SAPC conference brings together researchers and educators from the primary care community in the UK and around the world to showcase their latest studies on any aspect or issues relating to primary care. This year's themes are learning from Europe and populations on the move.
In 2019, SAPC will be hosted at CanTest co-lead institution, the University of Exeter Medical School.