New perspectives for Swedish primary care
Dr Marcela Ewing, a GP and oncologist working in the early detection of cancer in primary care for Cancer Centre West, Gothenburg, Sweden, talks about her recent trip to the Universities of Exeter and Cambridge on a CanTest Travelling Fellowship.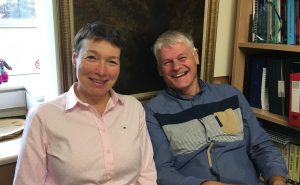 "Although one could argue that there are great differences in how primary care is structured and work in the UK and Sweden, our countries have one main thing in common – the patients. After finishing my PhD on how to identify earlier cancer patients in primary care and developing a risk assessment tool (RAT) for non-metastasized colorectal cancer, I thought it would be a piece of cake to implement the tool into Swedish primary care. It wasn't and the tool is still not implemented.
Therefore I felt very grateful to be given the opportunity of a CanTest Travelling Fellowship to learn more about the work of Professor Willie Hamilton and his CanTest team in Exeter. I was very impressed by the magnitude of the ERICA trial and the important research questions being raised. I had several interesting discussions with Professor Hamilton on different aspects of RATs and early cancer detection, with Dr Sarah Price on her projects looking at decision-support tools, Dr Sarah Bailey on her FITs work and also with the ERICA trial manager Dr Raff Calitri and researcher Dr Luke Mounce. The research on different tests for cancer patients in primary care in the UK is outstanding and ahead of how this issue is being addressed in Sweden. All the members of staff were most friendly and helpful and answered my questions with great patience. After one week in Exeter that included attending a national contest in church bell ringing at Exeter Cathedral, I headed to Cambridge.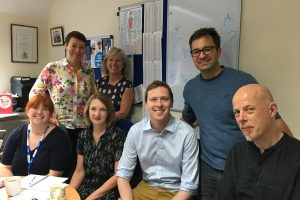 Dr Fiona Walter and her CanTest team were very inspiring and helpful and gave me an insight into their different research areas. It was especially interesting to hear about Dr Walter's trial exploring different aspects of FIT tests. The team's work on sophisticated tools such as artificial intelligence and biomarkers point to the future for tests that can add value and support GPs 'skills in the early identification of patients with increased cancer risk. Thank you all the kind and helpful CanTest staff at Strangeways Research Laboratory, Cambridge. It was amazing being surrounded by the history, glory and beauty of the colleges of Cambridge, where some of the greatest achievements in science have been made.
I am so grateful to CanTest for being given this opportunity for a closer encounter with some of the important cancer research in primary care that is going on in the UK. The Travelling Fellowship was a great inspiration for me in my present and future work. I do hope that the good connections between primary care cancer research in Sweden and the UK will continue to grow and flourish."
---
The CanTest Travelling Fellowships are designed to support visits by Junior Faculty to partner CanTest institutions, or to attend conferences and courses. The aim is to enhance research skills and expertise in early detection research, as well as fostering links and collaborations across international boundaries.