Links between mental ill health and time to cancer diagnosis established
A new study has investigated mental health morbidities and the timeliness of cancer diagnosis, with a scientific paper published today by CanTest members Georgios Lyratzopoulos, Niek J. de Wit, Becky White, Charles Helsper, Cristina Renzi, and colleagues Sara Benitez Majano, Bernard Rachet and Juliet Usher-Smith.
The paper in Jama Network Open, entitled, Mental health morbidities and time to cancer diagnosis among adults with colon cancer in England, asked the question, 'do people with anxiety, depression or other mental health conditions experience delays before having a bowel endoscopy for red-flag cancer symptoms, and are they at higher risk an emergency cancer diagnosis, compared to people without mental health conditions?'
To answer this, the team anonymised GP and hospital records of 3,766 patients with bowel cancer, to examine how history of a mental health condition influences the cancer diagnostic process. Mental health conditions chiefly included anxiety, or depression (together accounting for 90% of all mental health conditions in this study), as well as schizophrenia, bipolar disorder, alcohol addiction, and eating disorders.
People with mental health conditions who had presented to their doctor with cancer alarm symptoms were 28% less likely to be promptly investigated with bowel endoscopy. Average time to cancer diagnosis from first GP visit with cancer alarm symptoms was 326 days for people having a mental health condition, more than twice as long compared to people without such conditions (133 days). Patients with mental health conditions had a 60% higher risk of emergency diagnosis, independently of age, social deprivation or physical morbidity, such as heart, respiratory or other conditions.
Figure: Diagnostic interval by Mental Health Morbidity (MHM) status in patients with red-flag bowel cancer symptoms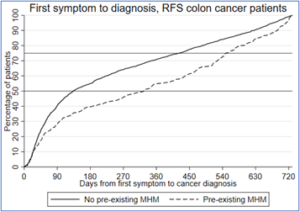 The findings highlight disparities in cancer diagnosis, also in agreement with recent studies in Denmark showing higher risk of emergency presentations in people with mental health conditions. Additional to mental health conditions, older age, social deprivation and physical chronic conditions, such as heart conditions, can increase the risk of diagnostic delays.
To diagnose cancer earlier in the large number of patients with mental health conditons, such as anxiety or depression, improved support for both patients and clinicians is needed. A greater collaboration and communication between GPs, specialist doctors, nurses and patients might help to support patients with more complex needs when deciding on diagnostic investigations such as bowel endoscopy. Recently, a new primary care test for patients with suspected colon cancer (FIT) has been introduced, and how this may help to improve the diagnostic process in patients with mental health morbidity is unclear. Further research is necessary using up-to-date data to identify the best approaches for improving cancer diagnosis for this large patient group.
Read the full scientific paper here, and an associated editorial which discusses the interface between colon cancer and mental health morbidities here.
(Header image by katemangostar on Freepik)