CanTest Summit, CanTest School and so much more!
Research fellow Javiera Martinez-Gutierrez recently visited the UK from Australia on a travelling fellowship to attend two CanTest events, as well as collaborating with UK-based research teams. Hear about the trip in her own words:
I am an academic GP and started my appointment as a cancer research fellow in the Department of General Practice at the University of Melbourne under Prof. Jon Emery's supervision in March 2020.  I became a CanTest faculty member also around that time, just as the pandemic hit and the world went into lockdown.
We would later find out that Melbourne would be the city with the most time under lockdown in the world. Disseminating research outcomes, and creating a network became very difficult and online conferences became the norm. I attended the Ca-PRI conference and 3rd CanTest School online in 2021 and was very excited at the possibility of meeting everyone in person.
The traveling fellowship gave me the opportunity to attend the CanTest Primary Care Cancer Detection Summit, the 5th CanTest School, and visit colleagues across the UK to discuss our research.
The Primary Care Cancer Detection Summit held in London was a wonderful opportunity to meet experts around the world and become knowledgeable on the kind of research that is being conducted on cancer detection. From advances in current clinical care, biomarkers, imaging tests, devices, and genetics to learning from the director of the NHS their plan for cancer detection in primary care and the networking opportunities it provided.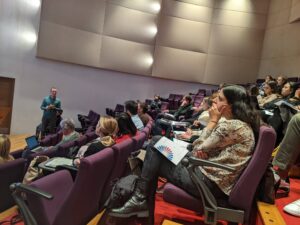 At the CanTest International School held in Cambridge, along with colleagues from the University of Melbourne, (the "Aussie contingent") and other universities from the UK and around the world, we learned about key research topics and methodologies taught by other CanTest faculty and we were also able to attend masterclasses from CanTest Senior Faculty. I had the opportunity to present my work and get feedback on my presentation skills by Simon Cain. Overall, a very intense, fun, and productive week!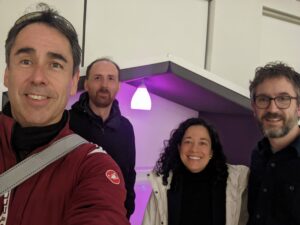 My research focuses on clinical decision-support systems (CDSS) for early cancer detection in primary care. During 2021, I had been collaborating with Dr. Brian Nicholson from the University of Oxford, on validating his risk prediction tool for unexpected weight loss using Australian data. During this trip, I was able to go to Oxford to meet Dr. Nicholson and his team and discuss in person some of the similarities and differences of our data as well as our plans for further implementation of the risk prediction tool into a CDSS in general practice.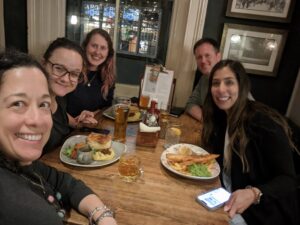 I then traveled to the University of Exeter, hosted by Professor Willie Hamilton, where I was able to meet some of his colleagues from the ERICA trial and learn about the implementation of risk prediction tools in general practice at a grand scale. I also had a lovely walk-through of Professor Hamilton's farm while taking research and career advice.
I finally went back to London where I had an enlightening talk with Professor Fiona Walter about women in research pathways and was very humbled by her generosity at being offered her knowledge and opportunities for collaboration.
I cannot stress how grateful I am to have been awarded this travelling fellowship and to have had the opportunity to meet such wonderful researchers and humans. I am sure this will be the seed of many fruitful collaborations to come.