CanTest leaders on the move
Two CanTest leaders have moved institutions in the last few months.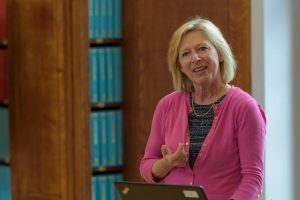 In April Professor Fiona Walter moved to Queen Mary University of London when she was appointed Chair of Primary Care Cancer Research and took on a leadership role as Joint Director of the Wolfson Institute of Preventive Medicine and the Institute of Population Health Sciences. She continues to maintain strong ties with Cambridge through an honorary senior role and as CanTest Director.
Now Professor Richard Neal, Associate Director of CanTest and a nationally recognised expert in cancer and primary care is joining the University of Exeter.  He will further strengthen the high-profile DISCOVERY cancer diagnostics team, led by CanTest co-lead Professor Willie Hamilton, whose work is part of a successful national campaign to improve early detection of cancer.
Willie said:
"I'm delighted to welcome Richard. He has broad interest in many fields of primary care research, particularly in the field of cancer. Richard has an incredibly strong track record of research in diagnosis of symptomatic cancer, so increases our area of expertise there further. He also brings a new dimension of work to our team, in cancer screening. These two policy and research fields have always overlapped, so our international leadership in this area is now even stronger."
Moving to Exeter from the University of Leeds in August, Richard will take up a post of Professor of Primary Care. An active GP, his interests cover all aspects of how general practice and other primary care services diagnose and treat cancer. His expertise also spans cancer awareness, screening, and living with and beyond cancer.
Richard said:
"I'm really excited to join the dynamic team at Exeter. Willie and I have longstanding collaborations and the team has some incredible rising stars. Already, they have helped make great strides in the crucial work of improving cancer diagnosis in the UK, which we know saves lives. I'm particularly looking forward to the opportunities around joining a university that is part of the NIHR School for Primary Care Research. It's a really neat segue with my research programme at Leeds, which I'm leaving in very safe hands and look forward to seeing grow from strength to strength. I am looking forward to new collaborations with Leeds in my Exeter role."
Richard will continue several projects after his move to Exeter, including a collaboration with PinPoint Data Science, to bring machine learning based upon laboratory measurements into prioritising urgent suspected cancer referrals from primary care, along with his work with CanTest.  He is Chair of the Royal College of General Practitioner's Scientific Foundation Board, and a former Chair of the National Cancer Research Institute's Primary Care Clinical Studies Group. He chaired the Scientific Committee for the recent Society for Academic Primary Care's Annual Scientific Meeting, successfully delivered virtually for the first time.