Diagnostic accuracy of FIT in patients urgently referred for colorectal cancer
Introduction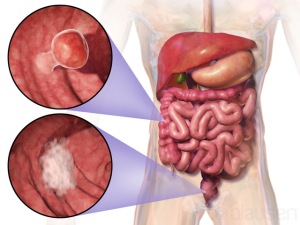 Colorectal cancer (CRC) is among the most frequent types of cancer worldwide, and a leading cause of cancer death. In 2009, the cancer patient pathway (CPP) for CRC was implemented in Denmark, aiming to ensure fast and efficient diagnosing and treatment of cancer patients. Patients are referred to urgent colonoscopy in the CPP if they present 'alarm' symptoms such as rectal bleeding, change in bowel habits for more than four weeks, iron deficiency anaemia, and/or substantial general symptoms (e.g. weight loss or abdominal pain).
More than 90% of urgent colonoscopies do not find CRC and at the same time, the demand for colonoscopies is increasing.
Faecal immunochemical test (FIT) detect occult haemoglobin in the stool, indicative of bleeding from the lower gastrointestinal tract, which may be caused by CRC or precancerous lesions. At present, FIT is not routinely used in the diagnostic work-up of symptomatic patients in primary care. However, the test may be a valuable tool in general practice for triage of patients who meet the referral criteria for urgent colonoscopy.
Aims & objectives
The study aims to evaluate the diagnostic accuracy of FIT in patients presenting with alarm symptoms of colorectal cancer.
Methodology
We are inviting consecutive patients referred to urgent colonoscopy to collect a stool sample for FIT measurement. Eligible participants are at least 18 years old and have not previously conducted a FIT in their current diagnostic work-up. Participants submit the sample and a consent form when attending for colonoscopy. FIT measurement is conducted using the OC-Sensor DIANA analyser, and results are registered in the clinical laboratory information system. Colonoscopy results are recorded in Danish national health registries. Information on type of alarm symptoms is obtained by sending a questionnaire to the patients´ GPs.
To assess the diagnostic accuracy of FIT, we will calculate the sensitivity, specificity, positive predictive value and negative predictive value of FIT, using colonoscopy as the reference standard. Measures will be stratified by age, sex and type of alarm symptom.
Outputs & impact
This study will provide knowledge on the diagnostic accuracy of FIT in patients presenting with alarm symptoms of CRC in general practice. Specifically, our data will illustrate if FIT can be used to rule out CRC in symptomatic patients, and thus, whether the test may aid in identifying patients who do not need to be referred to urgent colonoscopy. Data from our Danish study will add to a growing body of international research on accuracy of FIT in symptomatic patients, and may contribute to evaluate the existing referral criteria for the Danish CPP.
Next steps
The collection of stool samples and questionnaire data is ongoing and expected to conclude by the end of 2020. In 2021 we will continue focus on data analysis and writing of articles.