Associations between co-morbidities, route to diagnosis and stage in lung cancer: a cohort study using routinely collected data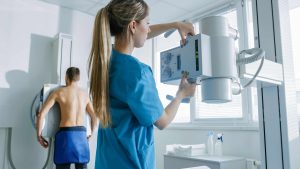 Introduction
In the United Kingdom (UK), 47,000 patients are diagnosed with lung cancer each year, and the disease is the leading cause of cancer death. The earlier lung cancer is detected the more likely it is that it can be treated effectively and cured – earlier diagnosis of lung cancer has the potential to improve patient outcomes including survival.
Research on other types of cancer has shown that patients with pre-existing medical conditions (co-morbidities) take longer to be diagnosed than those without co-morbidities, and that they may be diagnosed with more advanced disease.
Aims & objectives
The aim of this study is to examine whether common pre-existing diseases are associated with a) stage at diagnosis and b) route to diagnosis, in patients with lung cancer.
Methodology
We will use primary care data, collected from over 2500 patients with lung cancer. We will examine whether there is a relationship between co-morbidities and the stage of lung cancer diagnosis. As the route by which patients are diagnosed can have prognostic implications, we will also explore associations between co-morbidities and route to diagnosis. We will examine both the overall burden of co-morbidities, using the Cambridge Multimorbidity Score (CMS) and specific chest comorbidities, such as asthma and COPD, which may provide 'alternative explanations' for lung cancer symptoms.
Outputs & impact
This research is intended to improve our understanding of why some patients with lung cancer are diagnosed by emergency routes and at a more advanced stage than other patients. The results could facilitate the development of new approaches to expedite lung cancer diagnosis and improve outcomes.