Second successful CanTest School celebrates week of shared learning
Earlier this month, almost 60 senior academics and early career researchers from across the world gathered at Jesus College Cambridge for the Second CanTest International School for Cancer Detection Research in Primary Care.
Supporting CanTest's vision to increase the capacity and sustainability of cancer detection research in the UK and internationally, this year's School built on the successes of last year's event, using feedback and evaluation to fine tune the content and delivery.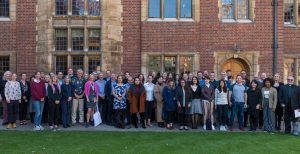 Providing a unique opportunity for shared learning and networking, the School included a packed timetable of presentations, workshops and networking sessions, delivered by members of the CanTest Senior and Junior Faculty and invited external speakers.
As well as the more formally delivered sessions, time was set aside throughout the week for informal networking and all attendees were also given the opportunity to present their current work during a quick-fire getting to know you session, which included time for hints, tips and guidance from the audience.
New attendee for 2019, Dr Erica di Martino, Research Fellow at the University of Leeds, Institute of Health Sciences said of the week:
"Having recently joined CanTest, attending the School has been a great opportunity to meet colleagues from the other CanTest Centres and to find out more about their projects and their research expertise. It has also provided the perfect environment to receive feedback on and develop my own research ideas."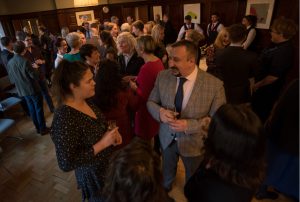 Other School sessions included an introduction to the CanTest Framework; discussions around existing and emerging technologies, including Artificial Intelligence and machine learning; understanding the benefits and harms of diagnostic testing, including overdiagnosis; workshops on using routinely collected data and economic evaluations of tests; as well as the importance of engaging with external stakeholders – especially patients.
The weekend ended with a feedback session, which will help shape the direction for future Schools and also provided welcome validation for the many hours of hard work spent planning and preparing for the week by Director of Faculty Dr Fiona Walter and Faculty Programme Manager Dr Valerie Sills, with support from the CanTest Faculty Group.
Dr Debra Choi from the Baylor College of Medicine in Houston, who attended the School last year, said of the event:
"It was wonderful to be able to return to the 2nd annual CanTest School and see a lot of friendly, as well as new faces who share the same passion and interest to improve early cancer diagnosis. I was excited the school provided more hands on workshops this year, which allowed me to build my skills as a junior researcher."
Planning is already underway for 2020, when places will be available to an even wider audience of attendees. Keep up to date with progress by visiting our International School page and following us on Twitter.