Planning for International School gathering pace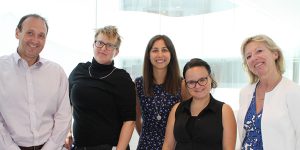 Preparations are well underway for our inaugural International School for Cancer Detection Research in Primary Care. A core activity of the Collaborative, the School aims to build capacity and future leaders in the field of early cancer detection and diagnosis research in primary care.
Taking place in April at the University of Cambridge, the week-long School will be attended by almost 50 of CanTest's Senior and Junior Faculty and CanTest aligned researchers. As well as researchers and students from the UK, USA and Denmark, we will be joined by University of Melbourne PhD students Frances Martin, Emily Habgood and Sibel Saya – pictured here with CanTest Director of Faculty Dr Fiona Walter and Associate Director Prof Jon Emery.
An exciting timetable of workshops, presentations and masterclasses will be delivered by our Senior Faculty, including; a review and evaluation of our newly developed Conceptual Framework; identifying existing and emerging technologies and biomarkers for potential use in primary care; diagnostic uncertainty, decision-making, and over- vs under-diagnosis issues; evaluating cost-effectiveness of diagnostic tests and testing strategies in primary care; and engaging with the six P's of stakeholders: Patients, Policymakers, Providers, Payers, Publishers and Public. Further sessions will be presented by external speakers, and members of our Junior Faculty will talk about their work. Time will also be set aside for networking and collaboration building.
More details and a programme for the School will be available soon. Follow us on Twitter for updates.