Could Ovarian Cancer Prediction Models Improve the Triage of Symptomatic Women in Primary Care?
A CanTest study indicates that a newly developed ovarian cancer prediction model could be used to help select women, with relevant symptoms who are undergoing testing in primary care, for specialist referral based on their cancer risk.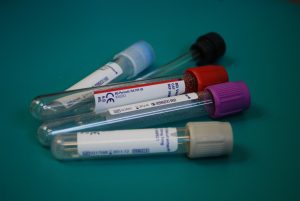 Ovarian cancer has the worst prognosis of any gynaecological cancer, accounting for over 4,000 deaths in the UK annually. Early diagnosis is key to improving patient outcomes, but the disease can be difficult to pick up as symptoms are often non-specific. A blood test for ovarian cancer (Cancer Antigen 125) is available and used within UK primary care. Although CA125 should not be used as a test for ovarian cancer in women without relevant symptoms (i.e. screening), previous CanTest research has demonstrated that it is a useful test to pick up the disease in women with relevant symptoms attending their GP, and its use in symptomatic women in primary care is advocated by the National Institute for Health and Care Excellence (NICE)
In this study, researchers from the Universities of Cambridge (Dr Garth Funston, Prof Fiona Walter) Exeter (Prof Gary Abel, Prof Willie Hamilton) and Manchester (Prof Emma Crosbie) used routinely collected primary care data from nearly 30,000 symptomatic women in England who had a CA125 test performed. They developed prediction models, which incorporated CA125 level alongside other patient information, to predict the individual risk of undiagnosed ovarian cancer. They found that a relatively simple model consisting of age and CA125 level had excellent performance and performed as well as a much more complex model which also incorporated symptom information, information on routine blood tests (platelets and albumin) and other risk factors (ethnicity, BMI and height).
Dr Garth Funston, who led the study, commented "As the model can provide the risk of undiagnosed ovarian cancer it could be used to guide individual decisions on the need for specialist investigation. Instead of simply relying on a single CA125 test cut-off (normal vs abnormal) the model could be used to select women based on their risk of undiagnosed ovarian cancer – this has the potential to expedite diagnosis and treatment but we now have further work to do. We need to validate the model and evaluate its potential clinical impact. We also need to ensure that it is implemented in a way that is must useful for GPs and patients."
The study was published in the journal Cancers:
G Funston, G Abel, E.J Crosbie, W Hamilton, F.M Walter. Could Ovarian Cancer Prediction Models Improve the Triage of Symptomatic Women in Primary Care? A Modelling Study Using Routinely Collected Data. Cancers 2021, 13: 2886
https://www.mdpi.com/2072-6694/13/12/2886