The development of an abdominal 'yes-no' pathway for primary care patients with vague and non-specific abdominal symptoms
Project Summary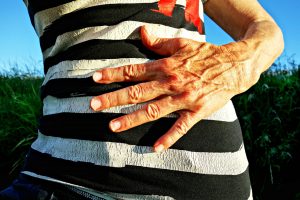 This PhD project is composed of three parts. In study 1 we aim to explore the frequency and timing of specific 'abdominal' related investigations and cancer patient pathways (CPPs) in the year prior to a diagnosis of an abdominal cancer. This with a specific focus on the overlap in investigations for different cancer sites. In study 2, we describe overall and by different abdominal cancer types the following: general practitioners (GP) involvement in the diagnosis and the diagnostic interval – DI (first presentation to diagnosis), GPs symptom interpretation (suspicion of cancer, suspicion of serious disease or no suspicion), and GPs' choice of referral ('routes to diagnosis'). Thirdly, in study 3, we aim to develop a rapid, stepped abdominal `yes-no' pathway for patients in general practice with vague abdominal symptoms, who do not fulfil the criteria for the specific abdomen-related CPPs and to set-up the pathway and assess the feasibility.
The abdominal ´yes-no pathway' was developed during 2018, and a clinical feasibility study giving GPs direct access to the pathway in part of the Central Denmark Region, has currently been conducted in Denmark (1 April to 30 September 2019).
Overall, the project will provide new important knowledge of the clinical examinations conducted in the year prior to an abdominal cancer diagnosis, the GPs' interpretation of symptoms and referral practice for patients with abdominal symptoms and on how to improve the diagnostics of abdominal cancers or other serious abdominal disease in the future and reduce time to diagnosis.
Project Team
Project Lead: Nanna Holt Jessen
Senior CanTest Lead: Prof Peter Vedsted
Others involved: Henning Gronbaek (Aarhus University Hospital), Henry Jensen (Research Unit for General Practice, Aarhus), Henning Glerup (Aarhus University)