Dr Merel Pannebakker
Faculty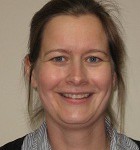 Merel is a member of the cancer group in the Primary Care Unit, part of the Department of Public Health and Primary Care at the University of Cambridge. She currently works as a Research Associate on the CanTest project that's looking to establish the diagnostic accuracy, acceptability and cost-effectiveness of haemoglobin in faecal immunochemical tests (FITs) in the primary care symptomatic population in the East of England.
Prior to joining CanTest, Merel worked on other projects in the Primary Care Unit, including managing the MelaTools programme, a set of studies that aimed to improve timely diagnosis of melanoma through optimisation of GP and patient assessment of pigmented skin lesions. Within the cardiovascular group led by Jonathan Mant, Merel was involved in the Polypill project, which investigated whether 'polypills' have a role in secondary prevention of stroke in older people in the developed world.
Merel obtained her PhD from the University of Leiden, where she investigated dual-task performance, functional capacity limitations and episodic storage through behavioural and electrophysiological experiments in healthy volunteers.
Institution
University of Cambridge
Publications
Walter FM, Pannebakker MP, Barclay ME, Mills K, Saunders CL, Murchie P, Corrie P, Hall P, Burrows N, Emery JD. Effect of a Skin Self-monitoring Smartphone Application on Time to Physician Consultation Among Patients With Possible Melanoma: A Phase 2 Randomized Clinical Trial. JAMA Network Open, 2020, doi: 10.1001/jamanetworkopen.2020.0001
Jones OT, Jurascheck LC, Utukuri M, Pannebakker MM, Emery J, Walter FM. Dermoscopy use in UK primary care: a survey of GPs with a special interest in dermatology. Journal of the European Academy of Dermatology and Venereology, 2019, https://doi.org/10.1111/jdv.15614