Improving the implementation of new technology in the early detection and diagnosis of cancer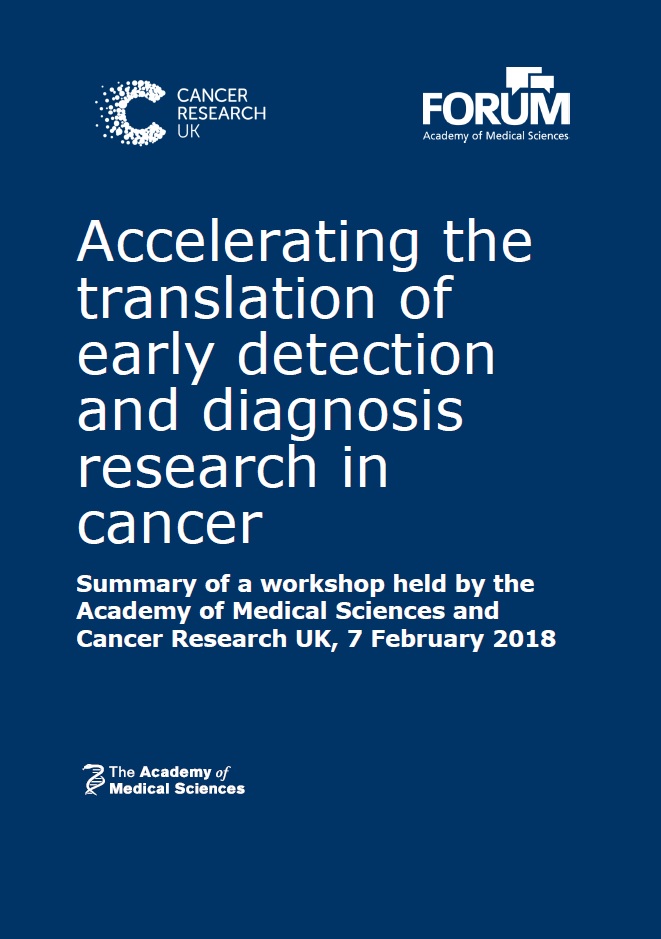 A recently published report from the Academy of Medical Sciences and Cancer Research UK summarises the work carried out during a Forum workshop that established priorities for the translation and implementation of early detection and diagnosis (EDD) technologies into the healthcare system.
A number of CanTest colleagues presented during the workshop and were joined by over 60 invited participants, including representation from academia, industry, patients, regulators, funders, commissioners and healthcare professionals.
CanTest Associate Director Prof Richard Neal presented an "Overview of EDD research and the translational pathway", whilst CanTest External Stakeholder Group member Prof Patrick Bossuyt presented the session; "What do we need to know to prepare the system?", as well as chairing one of the group discussions around "Filling the gap for translation of EDD technologies".
The workshop explored the 'state of play' in EDD research, highlighting emerging developments in EDD science whilst also exploring the challenges experienced in translating this science into the health system. Participants at the workshop proposed a number of priority areas for early detection and diagnosis research. This included the development of a roadmap for the translation of EDD tests as a resource for researchers. CanTest was cited as an example of an existing initiative on which to build this work.
Further information can be found on the Academy of Medical Sciences website, or you can download a copy of the report by clicking the image above.