Black in Cancer Conference inspires healthcare community to embrace change and celebrate diversity
This week, a collaboration between Black in Cancer and Cancer Research UK saw the first Black in Cancer Conference held for two days at the Science Museum in London, UK. The conference delivered a packed schedule of panel discussions, workshops and scientific sessions, alongside poster presentations and networking opportunities.
The Black in Cancer Conference focused on the themes of research, equality and patient experience, celebrating diversity, representation, and inspiring attendees to strengthen the pipeline of black leaders in cancer research. Topics ranged from making inclusion a priority and driving change, to empowering the next generation and creating a supportive research culture.
"When you improve things for a minoritised population, you improve things for everyone." Speaker – Onyinye Balogun MD, MSc
Organising committee member and Co-Director of cancer awareness (and CanTest affiliate member) Dr Tani Martins is a huge advocate for addressing inequalities in cancer care, and earlier this year published a paper in the British Journal of Cancer entitled, Ethnic inequalities in routes to diagnosis of cancer: a population-based UK cohort study – see more on this here.
Dr Martins said of the conference, "We wanted to create an environment where scientists, clinicians and patient advocates could have open discussions about the field and the challenges that we face. Collaborating like this provided a truly energising atmosphere for a variety of stakeholders, and it was a privilege to share the stage with so many thought-provoking and trailblazing individuals. We've received such positive feedback from attendees – a second conference is already being discussed."
The conference was also covered in a Times Higher Education article available here.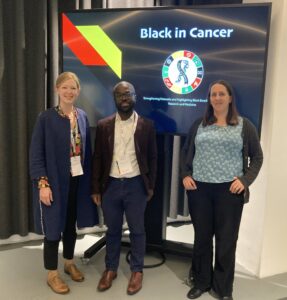 Pictured (left to right), CanTest members Dr Dr Sarah Bailey, Dr Tani Martins, Liz Down