Understanding the (not so) Strangeways of primary care cancer research in Cambridge
The CanTest Travelling Fellowship programme continues. Last week Dr Sam Merriel, CanTest Clinical Research Fellow at the University of Exeter, visited the Primary Care Unit at the University of Cambridge. 
"The CanTest Travelling Fellowships give opportunities for primary care cancer researchers to embed themselves in a primary care research unit at another institution to learn and build networks and collaborations. It gives a unique insight into how other research groups pursue their goals of improving cancer outcomes for primary care patients through research and education, and access to methodologists and experts in the field.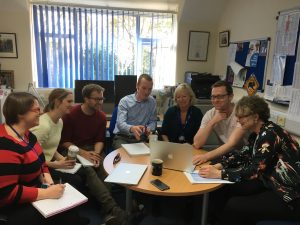 I was fortunate enough to receive a CanTest Travelling Fellowship to spend a week with Dr Fiona Walter and her Cancer Group, within the Primary Care Unit of the University of Cambridge. The Cancer Group also features CanTest junior faculty members Dr Garth Funston, Dr Marije van Melle, Dr Owain Jones, and Victoria Hardy, as well as many other talented primary care cancer researchers. Despite having offices in an unusually named building (Strangeways Research Laboratory), the team was most welcoming and collegiate. They are also closely linked with fellow primary care researchers in the wider Department of Public Health and Primary Care, holding a regular 'T@3' meeting on a Tuesday afternoon for a relaxed, informal weekly meeting over tea and cake.
I chose to spend time with the Cancer Group at the University of Cambridge for a number of reasons. My PhD is exploring the potential impact of multiparametric MRI on prostate cancer diagnosis in primary care, and the Cambridge team have expertise in the methods I will be employing to answer my research questions, including qualitative interviews and Patient-Centred Outcomes research. Dr Walter and her team collaborate on projects with some of the top researchers in the world based in Cambridge, and I was afforded the opportunity to meet with urologists, epidemiologists, and public health specialists to discuss my PhD and opportunities for working together on future studies. Understanding how other primary care research units tick also provided some valuable insights for me to take back to Exeter.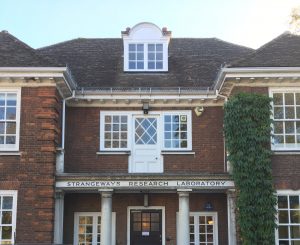 I want to thank the CanTest Collaborative for awarding this Travelling Fellowship, and Dr Walter and her team for a wonderful experience in Cambridge."
---
The CanTest Travelling Fellowship awards are designed to support visits by Junior Faculty to partner CanTest institutions, or to attend conferences and courses. The aim is to enhance research skills and expertise in early detection research, as well as fostering links and collaborations across international boundaries.