Melbourne: Bushfires, Primary Care Cancer Research and COVID-19
Astrid Boennelykke, a GP and PhD student at the Research Centre for Cancer Diagnosis in Primary Care at the University of Aarhus travelled to Melbourne in Australia, part-funded by a CanTest Travelling Fellowship. She reflects here on her extended stay with its start and finish marked by turbulent world events.
Thanks to a CanTest Travelling Fellowship, I was able to go abroad for a research stay at Melbourne University to visit Professor Jon Emery and his team. This was a unique opportunity to build a network across borders and to create international collaborations with specialized expertise within my field of research.
I arrived with my family in Melbourne in January 2020 and spent the first couple of weeks paying close attention to all the bushfires in Australia. Fortunately, we did not see any bushfires nearby, but only the fog and some of the areas that had been affected by the bushfires.
During the planned three-month research stay, I worked on my own registry data from Denmark. My work focuses on patients with anaemia in general practice; anaemia classification, diagnostic workup and cancer risk in these patients. I had a splendid view from my office desk at the seventh floor in the magnificent Victorian Comprehensive Cancer Centre, while I had the opportunity to discuss my research with Professor Emery and his team. I joined the team meetings, the General Practice Department weekly morning tea meetings and the Department research meetings. I also joined the "Shut up and write meetings" arranged by the students in the Primary Care Research Group, and I also enjoyed playing volleyball at campus with my colleagues in the breaks.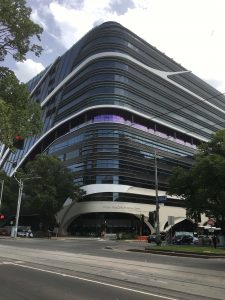 Visiting Professor Emery and his team gave me the opportunity to discuss and explore my research with an international perspective and to gain new knowledge and ideas about improving early cancer diagnosis in Primary Care. Moreover, it was rewarding to experience a different research environment; it gave me scientific and cultural experiences that are valuable for my project and career.
Unfortunately, the COVID-19 situation suddenly developed in March 2020, and restrictions in Denmark and other parts of the world increased rapidly day by day. In mid-March, we woke up to the news about total lock-down in Denmark. This increased our concern that all flights to Europe might soon be cancelled. Therefore, sadly, we had to decide to travel back to Denmark 14 days before scheduled. Three days later, we were on the plane back to Denmark after a fantastic stay in Melbourne. I am very grateful for the opportunity that I was given, and I would like to thank the CanTest community and Professor Emery for enabling me to experience this great visit.