CanTest teams awarded grants to develop quality measures for cancer diagnosis
Achieving an earlier diagnosis of cancer is a global challenge.  To promote early diagnosis, it is paramount that we collaborate and learn from research in other countries and health systems, which is the basis of CanTest's international collaboration.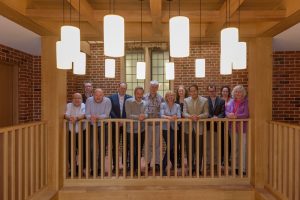 We are delighted that together with UK CanTest colleagues, both our US CanTest Co-Investigators were recently successful in obtaining research funding from the Gordon and Betty Moore Foundation as part of its Diagnostic Excellence Initiative, which aims to develop clinical quality measures to improve diagnosis.
The award to Matthew Thompson (University of Washington, Seattle), in collaboration with Fiona Walter (Cambridge) and Richard Neal (Leeds), supports the 'Development and pilot testing of a measurement tool for the diagnosis of lung cancer.' Lung cancer is the most common cause of cancer-related death in the United States, and many patients have symptoms and repeated visits to health care providers in the months before diagnosis. This project will develop and test a new method for measuring and tracking the timeliness of the patient's cancer trajectory from first onset of symptoms to final diagnosis of lung cancer. This measure will draw information from the electronic medical record as well as from patients and their caregivers. The goal of this measure is to identify places in the diagnostic pathway where enhancements are needed to improve the early diagnosis and eventual outcome for lung cancer.
The award to Hardeep Singh (Baylor College of Medicine & Houston Veterans Affairs), in collaboration with Yoryos Lyratzopoulos (UCL) and Gary Abel (Exeter), supports development of 'Safer Dx e-measures to reduce preventable delays in cancer diagnosis.' This project will use electronic health record data to quantify how promptly clinicians recognize and act on concerning symptoms or test results that may indicate an undiagnosed cancer. Outcome measures will quantify the percentage of cancer diagnoses that are made at an advanced stage or in emergency settings.
The Gordon and Betty Moore Foundation is an American foundation established by Intel co-founder Gordon Moore and his wife Betty Moore in September 2000 to support scientific discovery, environmental conservation, patient care improvements and preservation of the character of the San Francisco Bay Area. The foundation is providing funding for nine novel ideas and approaches for new clinical quality measures targeting improved diagnosis, specifically addressing three major categories of disease responsible for the greatest harm from diagnostic errors – acute vascular events, infections and cancer.