New study reveals differences in how often GPs request chest x-rays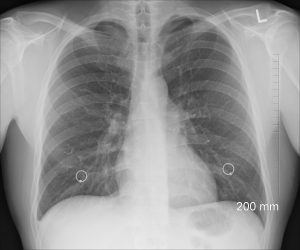 A team of CanTest collaborators, led by researchers at the University of Leeds has published a study in British Journal of General Practice that examines how often GPs request chest x-rays for their patients and what factors affect how often these tests are performed. Chest x-ray is an important test for lung cancer, so the team wanted to know whether there were important differences in the way chest x-ray was used and if so if they could find reasons to account for this.
The research, which looked at numbers of chest x-rays requested by over 6,000 general practices in England found that there were substantial differences in the number of x-rays performed and that only about 16% of this could be explained by differences in the patients at each practice, like rates of smoking and proportions of older patients.
These findings could be important because they suggest that practices that currently request fewer chest x-rays than other practices could be supported to undertake more of these tests, which could in turn lead to earlier detection of cancer. This is important because diagnosing lung cancer earlier is probably the best way to improve survival for the disease.
The next step for this research is to find out if patients who have lung cancer who are at practices that are requesting more chest x-rays are being diagnosed earlier, than those who are at practices which organise fewer chest x-rays. The research team who have authored this study plan to answer this question by using data from the National Cancer Registry.
Read the paper here: https://bjgp.org/content/early/2021/12/10/BJGP.2021.0232