Risk of lung cancer in symptomatic patients with negative chest x-ray results
Who is involved?
Senior Faculty Lead: Prof Richard Neal 
Project Lead: Dr Stephen Bradley
Co-Lead: Dr Mat Callister (University of Leeds)
Others involved: Prof Willie Hamilton, Mr Pete Wheatstone (patient representative), Dr Bethany Shinkins (University of Leeds), Dr Bobby Bhartia (Leeds Teaching Hospitals Trust), Dr Luke Hatton (Leeds Teaching Hospitals Trust) & Dr Rehima Aslam
Project Summary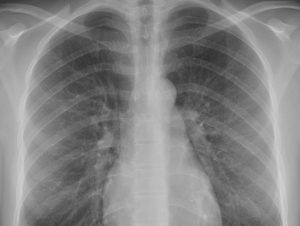 While improved survival in lung cancer is linked closely to detection at earlier stages, many symptoms, such as cough, are very common and are rarely associated with serious diseases like lung cancer. This makes accurate and early diagnosis of lung cancer an important challenge for General Practitioners (GPs).
Chest x-ray is a common first line investigation requested when GPs suspect their patient could have a lung cancer, but the x-ray result is often normal or unremarkable even in patients who continue to have symptoms. Chest x-rays are not always accurate and some patients (approximately 25%) who have a lung cancer may have initially had a chest x-ray result that did not show lung cancer.
Deciding how to best care for patients who could have a lung cancer, but who do not meet the criteria for referral for an urgent appointment with a specialist (two week wait), often because the x-ray result did not indicate lung cancer, is a conundrum for GPs.
A risk assessment tool (RAT) has previously been developed to determine the chance that individuals presenting with particular symptoms could have cancer (the 'positive predictive value'). However this tool does not take into account the result of a chest x-ray, which GPs will frequently arrange themselves as a first step.
A tool to support GPs in making decisions about which patients should be investigated further after their chest x-ray could help identify patients who require definitive investigation and spare patients at very low risk from the unnecessary radiation as well as the anxiety and inconvenience of additional investigation.
This project will generate a tool that will estimate positive predictive values for lung cancer in smokers and non-smokers who have negative chest x-ray results in combination with particular symptoms.